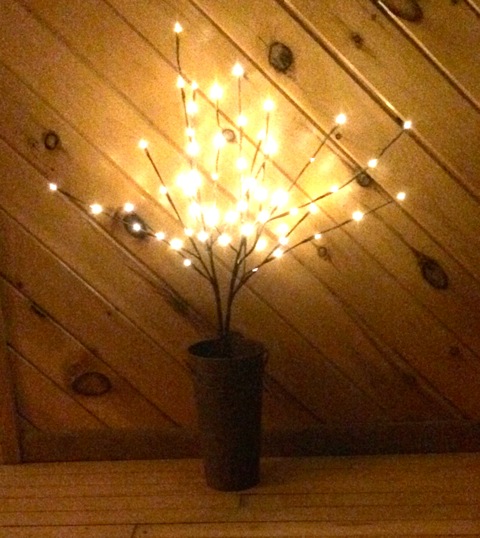 Dear Readers,
Mark and I call this our Edinburgh tree. We spent Christmas there three years ago, and the apartment we rented was too tiny for a Christmas tree. Instead, the landlord left us lighted willow branches. Since then, Mark and I have started our own willow branch tradition at the holidays. It brings back great memories of Scotland, but it also makes us itchy to travel more in the future. (Sadly, we need to win the Million Player Jack Pot to do that).
The holidays are a wonderful time of year, but for some people they can also bring on depression. I know: I'm one of them. Don't suffer! There are resources available that can help. Use them. Don't be shy about reaching out to people who can help as well. Don't let anyone minimize what you're going through. And don't underestimate the healing power of reading when reality feels too tough to handle. Books help, whether you're reading them or writing them.
I'm going to close out the year with a big thanks to my readers. I promise you: 2015 is going to start off with a bang, so make sure you stop back. I think you'll be very pleased.
Joy and Cheer to you and yours, whatever you may celebrate.
Deirdre
---
NEW YORK BLADES: FIRST HOCKEY SERIES,
BEST HOCKEY SERIES!
"If you've never read any of Deirdre Martin's New York Blades books, you are missing out."
—The Brazen Bookworm

"Deirdre Martin knows how to write a beautiful single title romance."
—Single Titles

"Contemporary romance doesn't get much better than this."
—All About Romance