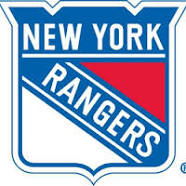 After a season delayed because of the lockout, in which no team dominated and in which every playoff team suffered through losing streaks, the hockey playoffs are a welcome relief.
The first round washed away much of the taste of a mediocre regular season, with some great efforts and incredible games that reminded me and every other hockey fan why this is the greatest sport in the world. Naturally, it was the Rangers versus Capitals match that I found the most exciting.
To be fair, though, I have to give other teams their due: It looked like the Bruins were finished, falling behind 4 to 1 in their seventh game versus the Maple Leafs. But in a show of incredible determination, they came back to tie in regulation and win in overtime. Part of me feels bad for the long suffering Maple Leaf fans. As a Rangers fan, I know what it's like to endure a long Stanley Cup drought.
Never having won a seventh game on the road in their long history, and not having played well in Washington, the Rangers were the underdogs in their seventh game versus the Capitals. But incredible goaltending and some surprising offensive contributions carried the Rangers to a 5-0 victory in an anticlimactic seventh game.
Both series showed there is a difference between regular season players and playoff players. When the playoffs come around there are players whose performance improves and others who seem to shrink from the pressure. To paraphrase the Blades' Ty Gallagher, winning largely depends on "how badly you want it."
One thing for certain: there is nothing in sports as exciting as the Stanley Cup playoffs!
Deirdre
---

HIP CHECK
Read An Excerpt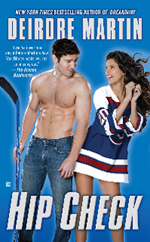 Pre-Order Your Copy
Print:
"...a thoughtful romance filled with characters you will care about. The realistic work and life situations that Esa and Michelle face add depth to the romance. Hip Check will score with readers."
—4 out of 5 Blue Ribbons, Sarah W., Romance Junkies
"Deirdre Martin has a true talent for writing a great romance novel. She also lets her passion for sports shine through the pages of Hip Check. This was a story that pulled on my heart strings, and one that I completely connected with."
—4 out of 5 stars, Night Owl Reviews
"A sexy, successful contemporary romance, with chemistry, heat and a feel-good, affecting happy-ever-after ending that its intended audience will approve."
—Kirkus Reviews
"Hip Check is a passionate romance between two independent individuals... At the same time, it is a poignant story of a young girl who has lost her mother, and is given to an uncle who has no idea how to interact with an 8 year old. Watching their relationship grow into something strong and lasting is just as memorable as the romance between Esa and Michelle."
—Kathy Andrico, ReaderToReader.com
"Does not disappoint...Ms. Martin weaves a wonderful story of compassion...Mixed in is humor and lots of love. She is the one author that I know when I pick up her book that I am going to love it. If you have never read a book by Ms. Martin, you are really missing out on something special."
—Fresh Fiction
Esa Saari is a hockey player for the New York Blades with a bad boy rep both on and off the ice. But when he suddenly becomes the guardian of his eight-year-old niece, Nell, he knows his excessive lifestyle is about to get body checked.
So he hires a live-in nanny. Her name is Michelle Beck, and she gets along great with Nell. What surprises him, though, is that he instantly hits it off with her, too. Becoming romantically involved would be a bad idea, but he's finding it impossible to ignore the intense chemistry between them.
Michelle, however, takes her job very seriously, and must decide whether to listen to her head or her heart. And Esa's got to decide if he can give up his bad-boy image for the love of a good woman...

"If you've never read any of Deirdre Martin's New York Blades books, you are so missing out."
—The Brazen Bookworm
"Deirdre Martin knows how to write a beautiful single title romance."
—Single Titles
"Contemporary romance doesn't get much better than this."
—All About Romance