A New York Blades Novella!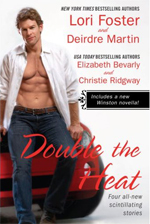 Order Now!
Double The Heat
What could be more fun than a game between friends, or lovers? In these four sexy stories of mixed up couples and mistaken identities, it's not about winning, but how much you like to play.

"If you are looking for a light, funny and engaging romance this is one that you will enjoy."
—Bookaholics Romance Book Club
"Martin can touch the heart and the funny bone."—Romance Junkies
"Ms. Martin always delivers heat and romance."—Contemporary Romance Reviews
"Pick up your copy today of DOUBLE THE HEAT or you're going to miss out on some terrific reading."— Patti Fischer, Romance Reviews Today